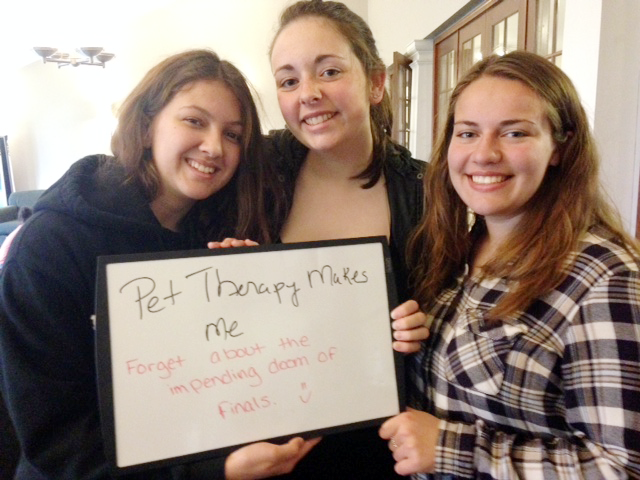 "Pet therapy makes us want a dog!"
"Pet therapy makes me forget about the impending doom of finals."
"Pet therapy makes us happy!"
"Pet therapy makes me feel ecstatic!"
These were just a few of the testimonials given by students at the State University of New York at Oswego during a recent pet therapy visit to Johnson Hall. The visit was one of many that PAWS of CNY volunteers have attended recently at SUNY Oswego. Over the past several years, the PAWS of CNY partnership with SUNY Oswego has grown, along with the annual number of pet therapy visits on campus. The partnership has been mutually beneficial, allowing students an opportunity to take a much needed break before mid terms and finals, and giving PAWS of CNY volunteers and their certified therapy dogs an opportunity to enjoy an evening with some sweet, loving students.
At the recent event at Johnson Hall, the event was attended by PAWS of CNY volunteers Sue Vaughn and her Labrador Mix Bert, Ashton Earls and her Basset Hound Darby, Martha Sturtz and her Golden Retriever Flyer, Dianne Restuccio and her Golden Retriever Enzo.
PAWS of CNY established its college de-stress program to help students alleviate some of the strain, stress, and worry that proceeds mid-terms and finals, even if only temporarily, through the comfort of loving therapy pet interactions.
PAWS of CNY's college de-stress program offers pet therapy services to colleges and universities across Central New York, having attended visits at Syracuse University, SUNY Oswego, SUNY Environment Science and Forestry, SUNY Morrisville, and Onondaga Community College.
If you're interested in inviting PAWS of CNY to attend your next college or university de-stress event, complete an event request form.
To see photos, and hear more about all the reasons students at SUNY Oswego love their pet therapy visits from PAWS of CNY, click on the photo gallery below.
Please follow and like us: