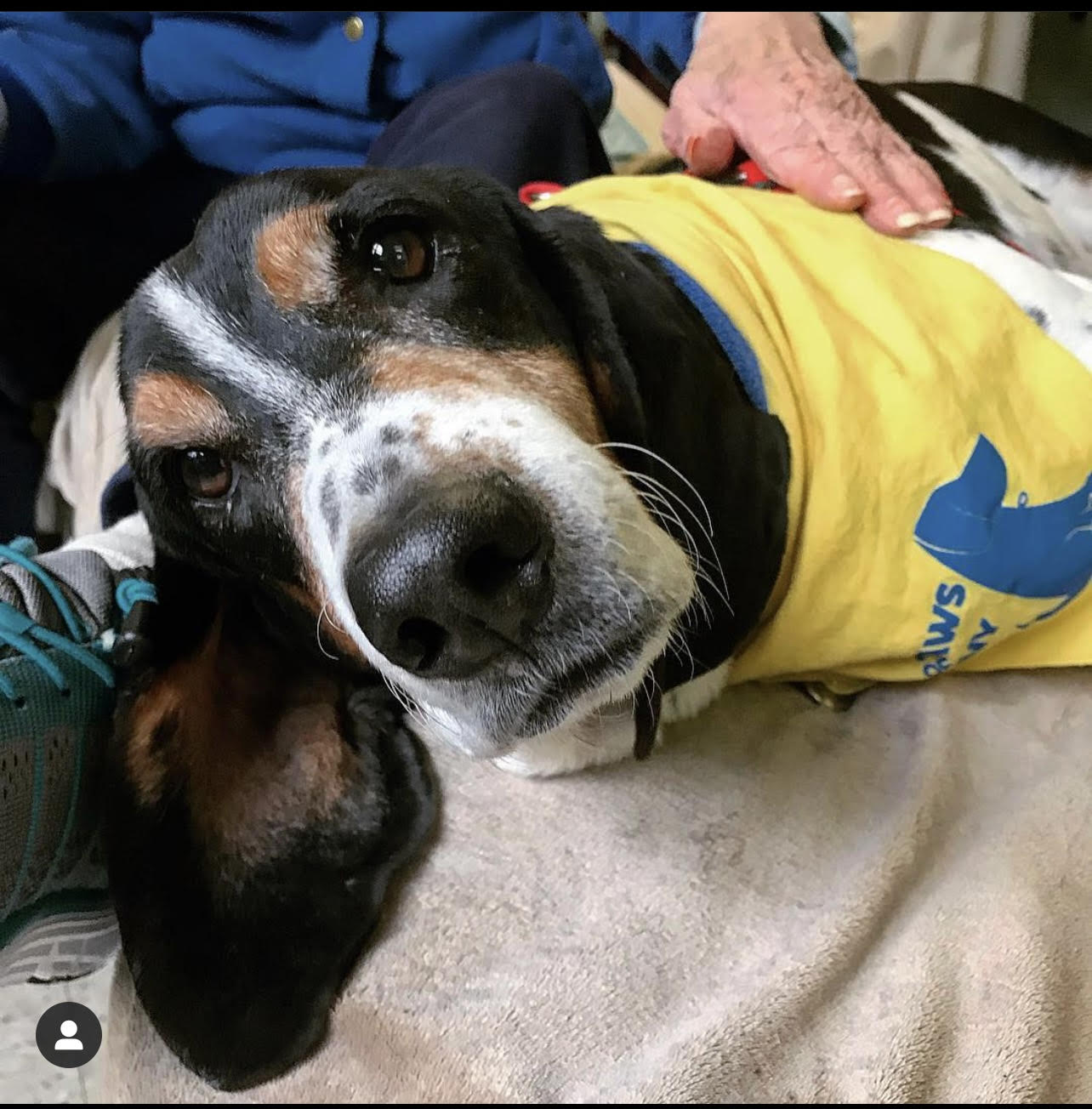 If your pet has a friendly temperament in all environments and gets along with other animals, you may have a good candidate for pet therapy work. All pets who volunteer at hospitals, long-term care facilities, psychiatric facilities, libraries or schools are required to meet and maintain the PAWS of CNY Certification requirements. In addition, pets who attend some of our specialty programs are required to meet the American Kennel Club's Canine Good Citizen (CGC) certification requirements.
PLEASE NOTE: The PAWS of CNY Certification provides accreditation for handlers and their pets to attend PAWS of CNY sanctioned AAA and AAT pet therapy visits only. PAWS of CNY does not certify emotional support pets, guide dogs, or other service animals.
Appying for Certification
Before beginning the certification process, you must submit an application to PAWS of CNY.  Please be sure to have electronic copies of proof of rabies vaccination and an annual health screening form (signed by your vet) including a negative fecal test within the last calendar year before you begin.  Click here to apply.
Initial Evaluation
After reviewing the initial online application, PAWS of CNY will contact the prospective volunteer to set up an initial evaluation.
At the initial evaluation, the following will be assessed:
• Temperament
• Basic Obedience (for canines)
• Volunteer's Handling Skills
Read the detailed certification criteria for dogs
Read the detailed certification criteria for cats
If your pet does not successfully pass the initial evaluation, we will invite pets that need minor corrections for a second evaluation, for others we recommend training and time to mature (generally a six-month break to obtain documented, professional training before being retested). View our listed or recommended pet trainers.
Example of an initial therapy dog evaluation test:
Thank you to Media by the Bay, LLC. for assisting us in producing this video.
Initial Certification Fee
Each pet that passes the certification process will be charged a $100 certification fee, which will be due at the time the dog passes the initial evaluation. For pets that continue in the program long-term, every two years, when the pet successfully passes the required re-certification, an additional $100 fee will be required.
New Volunteer Orientation
Upon passing the initial evaluation all new volunteers must complete an online volunteer orientation, volunteer member agreement, and choose an evaluation facility. Additionally, you will be able to pay your certification fee via paypal.
Facility Evaluation
The evaluation process will continue with three supervised visits in the assigned facility. Most facilities are scheduled for monthly visits, thus, the facility observation portion of the evaluation is completed over the course of three consecutive months.
First Visit: Handler attends without their pet. The purpose of the initial visit is for the handler to observe the visit, meet the group leader and the other volunteers, and become acquainted with the facility, staff, and residents without their pet.
Second and Third Visit: Handler attends with their pet. The pet must demonstrate proper behavior during the visit and the handler must demonstrate proper handling of their pet. The group leader will observe and evaluate the pet handler team during these visits.
The criteria against which the handler/pet team will be assessed by the group leader is available here.
After the third visit, if the Group Leader has assessed that the team has met all the necessary requirements, the volunteers will complete their PAWS of CNY Therapy Pet Certification and can continue to visit at that facility on a routine monthly basis. The Group Leader will report to the Board of Directors that the team has passed the certification process and the team will be mailed an official certificate and bandana. The pet must wear the bandana at every visit moving forward as proof of certification. If you are interested in ordering a PAWS of CNY vest, instead of the bandana, click here to order a vest.
Maintaining Your Certification
Teams are re-assessed every two years to ensure consistent demonstration of the necessary behavior and temperament requirements to be a PAWS of CNY volunteer. It is the handler's responsibility to contact PAWS of CNY to schedule the re-certification evaluation. The bi-annual evaluation includes the same testing criteria as the initial evaluation. A $100 re-certification fee is due at the time a pet successfully passes the re-certification evaluation
Volunteer Requirements
PAWS of CNY volunteers are asked to visit at least one facility per month with their pet. Visits typically last 45-60 minutes. We appreciate and encourage volunteering at multiple facilities, but recommend that the frequency of visits not exceed twice per week. This helps to ensure that our pets do not become overwhelmed. In addition to monthly facility visits, our volunteers have many opportunities throughout the year to volunteer with or without their pets at various community events that PAWS attends.
Ongoing Membership Fees
As a non-profit volunteer organization, PAWS of CNY is financially dependent upon fundraising, community donations, and membership fees in order to sustain our operations.
Each pet that passes the certification process will be charged a $100 certification fee which will be due at the time the dog/cat passes the initial evaluation. Every two years, when the pet successfully passes the required re-certification, an additional $100 fee will be required.
This biennial $100 fee for certified pets covers costs associated with a volunteer's application/orientation process (including mailings, room rental fees for certification testing, mandatory pet bandanas, etc.), insurance, volunteer scheduling platform, as well as costs associated with on-going administrative operations.
Certification/Re-certification fees may be paid securely via PayPal:
In compliance with IRS regulations, please note that this donation represents a charitable contribution to PAWS of CNY, Inc. 
Re-Certification Policy
If a pet has not visited any facility in six months or more, that pet, along with the handler, must complete the entire certification process (from application through testing). If a re-certification is required due to a six-month lapse, an additional $40 fee for each pet may be required to accommodate the expenses associated with the complete re-certification.