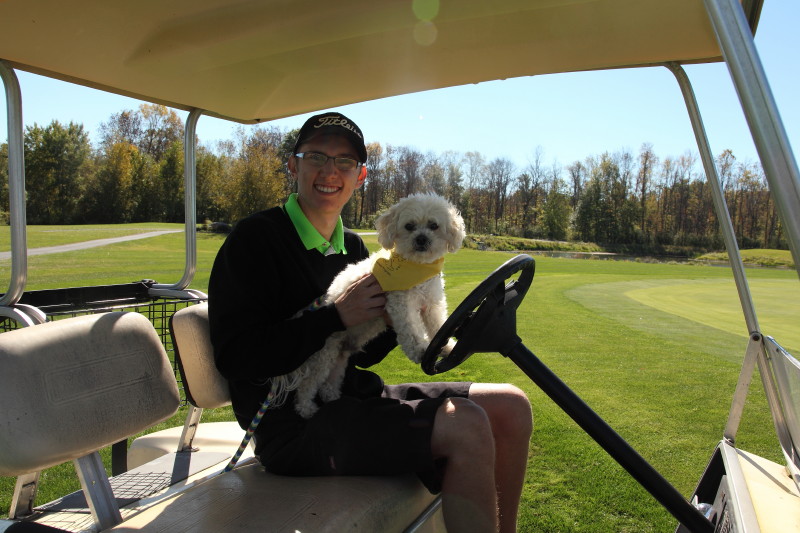 Florence Peters was a dedicated PAWS of CNY (formerly Sunshine Friends, Inc.) volunteer. Flo was a special woman who loved dogs and was a committed member of our organization. Flo and her husband Jim started an annual golf tournament event several years ago, and the tournament now lives on in Flo's memory. For the past four years, the Soup Bone Foundation has been kind enough to donate a portion of the event's proceeds to both Hospice of the Finger Lakes, and PAWS of CNY.
This year's Soup Bone Golf Tournament will be held on September 25th at Millstone Golf Course in Elbridge, NY at 9:00 am. Hundreds of golfers and lunch guests will be attending this year's event.
Please help PAWS of CNY to support this year's Soup Bone Tournament with a purchase of a Ball Drop Raffle raffle ticket! The event's ball drop has been a huge success for the past four years! Raffle tickets are on sale for $5 each or 5 for $20. Each raffle ticket corresponds to a numbered golf ball. When the balls are dropped onto the course from the top of a fire truck ladder, the closest to the pin will win $1000! Second place wins $500, third place wins $200, and fourth place wins $100! Contact us for information on purchasing ball drop tickets.
Watch a video of last year's ball drop
Please help us to make this year the biggest and most successful tournament yet!
P.S.: Want to know why the event is called the "Soup Bone?" Read Jim and Flo Peter's story here!
Please follow and like us: