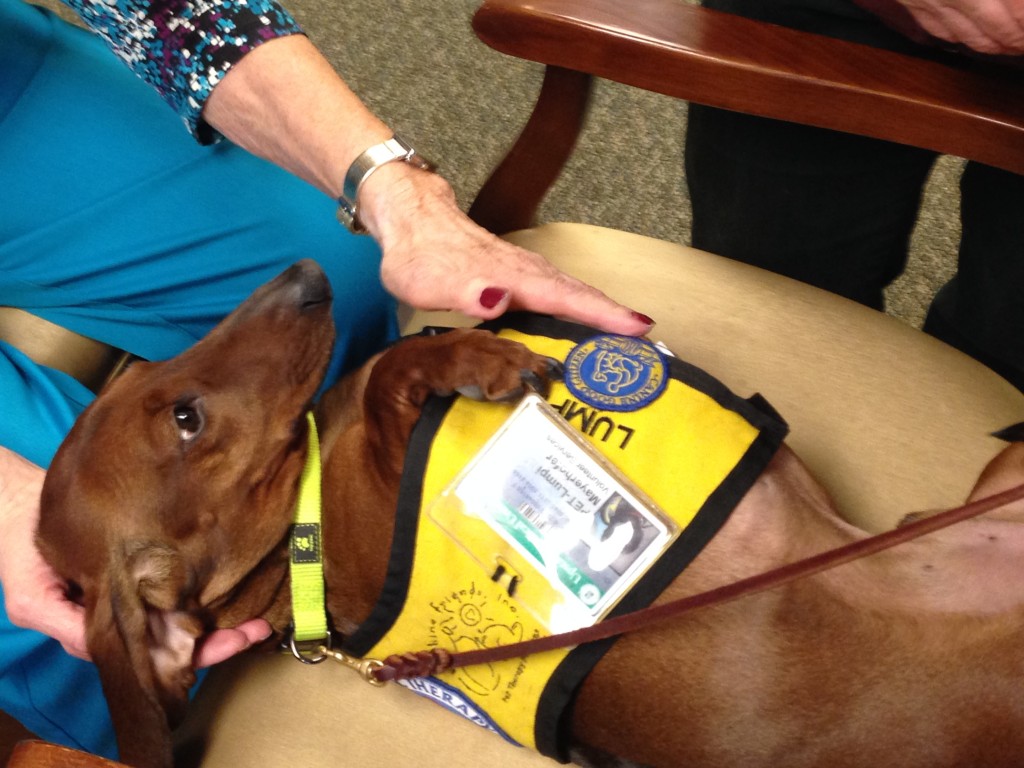 Think your dog has what it takes to be a therapy dog? Wondering if you could both benefit from a few training courses so that you ace the evaluation test? Our Therapy Dog Training Course registration is now open!

Therapy Dog Class
Led by Danielle Basciano, CPDT-KA, CBCC-KA, ACDBC
5/17/2016 – 6/14/2016
8:00 PM
Cicero Animal Clinic
Click here to register.

This five-week therapy dog training course is designed to prepare dogs to pass the PAWS of CNY certification, as well as to provide ongoing education to dogs and handlers who are already certified. The course is not mandatory in order for a dog to be evaluated. It is, however, encouraged for dogs who are good candidates for pet therapy work but may need assistance perfecting some of the certification criteria or for folks who just want to learn more about what it takes to be a certified therapy dog team.
Some of the topics this course will cover include:
– Evaluation test items
– Handling skills and focus work
– How to read and respond appropriately to canine stress signals
– Introduction to and handling around medical apparatus
– Visit simulation to practice new skills (last class)
Classes are taught by Danielle Basciano, former President of PAWS of CNY, and a certified professional dog trainer.
Class Details:
Cost: $80.00
Class Length: 5 – sessions
Class Size: up to 10 dogs
PLEASE NOTE: The PAWS of CNY Certification provides accreditation for handlers and their dogs to attend PAWS of CNY sanctioned AAA and AAT pet therapy visits only. PAWS of CNY does not certify emotional support dogs, guide dogs, and other service dogs.
Please follow and like us: