On Saturday June 6, PAWS of CNY hosted its first children's bookfair at Barnes & Noble in Liverpool, with special guests from the Syracuse Chiefs. The goal of the event was to raise awareness of PAWS of CNY's children's reading programs.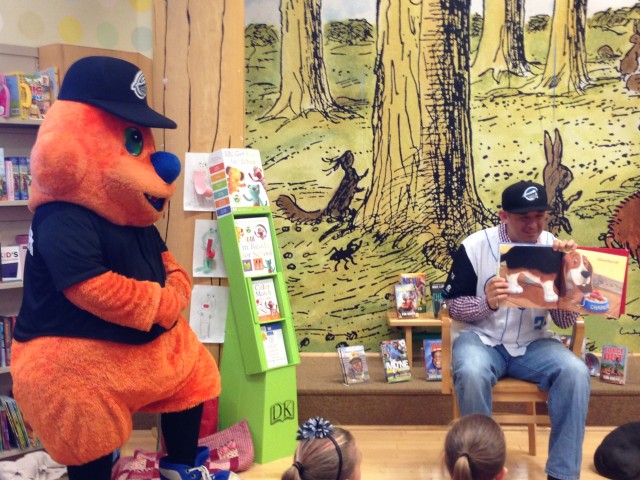 PAWS of CNY was thrilled to be joined by member of the Syracuse Chiefs, including General Manager Jason Smorol, starting pitcher Bruce Billings, and mascot Scooch. Children in the store were treated to a special storybook reading from Smorol and Billings, photos with Scooch, a PAWS of CNY coloring contest, and lots of love from PAWS of CNY's certified therapy dogs. Therapy dogs in attendance throughout the afternoon included Dory the lab mix, Chase the leonberger, Allie the King Charles cavalier spaniel, Willie the Whippet, Quincy the pug, Cooper the great dane, Cat the cockapoo, and Stella the Bernese mountain dog.
PAWS of CNY's therapy dogs visit with children at libraries and schools across Central New York to assist children in overcoming their apprehensions of reading outloud by allowing them to read to the non-judgmental ear of a certified therapy dog. PAWS of CNY's reading programs have been helping children to improve their reading for over a decade.
Thanks to the generosity of Barnes & Noble's bookfair program, a portion of all in-store and online sales associated with the bookfair benefit PAWS of CNY.
To see photos from the event, click on the gallery below.
Please follow and like us: