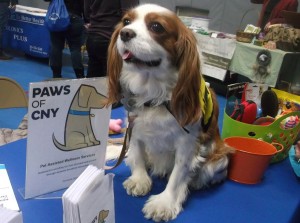 On Friday November 21, PAWS of CNY participated in Elmcrest's annual Take a Break for Wellness Event. The employee health and wellness expo aims to encourage the hard-working employees at Elmcrest to take a break from their busy schedules to learn about community resources that aim to improve and enhance individual health and wellness.
PAWS of CNY has participated in the event for the past three years. This year, volunteer Audrey Sauer attended the event with her great dane, Cooper.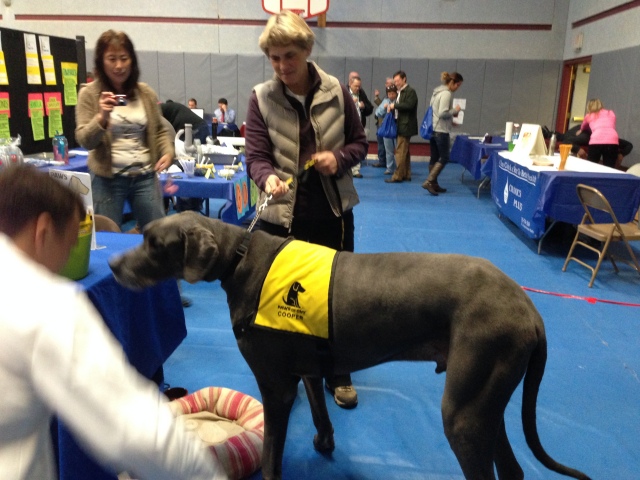 "Cooper was very laid back and calm, as usual,and he enjoyed the attention he received," said Sauer. "He…thoroughly enjoyed the petting, ear scratching and occasional treats."
Over the past several years, PAWS of CNY has received an increase in the number of requests they have received to attend corporate and community wellness events with a particular increase in the number and variety of employee wellness event invitations. More and more organizations are realizing the importance of enabling their employees to lead a lifestyle that is well-balanced from a health and wellness perspective, and are realizing the impactful role that human-animal interactions can play in optimizing wellness.
According to Sauer, adults can benefit from PAWS of CNY's pet assisted wellness services as much or more than children.
"Petting, talking and spending time with a pet is the best method of stress relief there is!"
In addition to the annual wellness event benefiting faculty and staff, PAWS of CNY conducts a monthly reading program for the students at Elmcrest.
If you are interested in having certified therapy dog teams from PAWS of CNY attend your next employee wellness event, contact us today.
Please follow and like us: