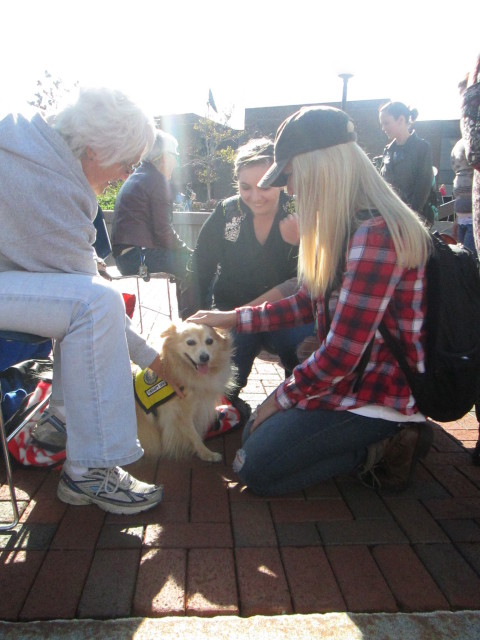 The students at Onondaga Community College (OCC) successfully hosted their first stress reduction event for students on October 8. The event brought several wellness-themed organizations and activities to the campus quad, including some of PAWS of CNY's therapy dog teams. PAWS of CNY volunteer Jody Satalin attended the event with her golden retriever Cooper.

"[The students] were so happy to see Cooper," said Satalin. "I asked many of them how they felt about the dogs being there. They said when they read all that was to be offered that day and they saw that dogs were going to be there, they made it their very first stop."
PAWS of CNY has expanded its college and university de-stress activities over the past two years out of an overwhelming response from local institutions coordinating de-stress activities for students during critical parts of the school year, such as midterms and finals.
"They were so appreciative," said Satalin. "Many sat down on the ground and talked to me for quite a while – at the same time they were either petting Cooper or telling me or showing me pictures of their own dogs."
The student event coordinators from OCC thanked PAWS of CNY for attending their event, reporting that their students loved the opportunity to enjoy some pet-assisted wellness.
Contact us for more information on how PAWS of CNY can support your college or university's next de-stress event.
Please follow and like us: