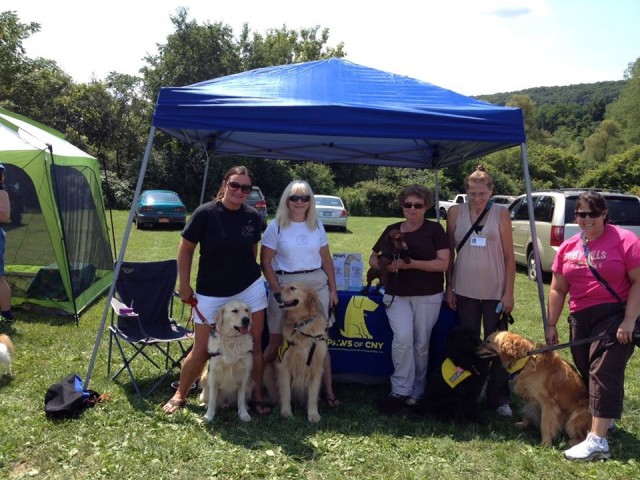 PAWS of CNY was one of 120 organizations that attended the Canine Carnival event on Saturday August 9 at Jamesville Beach Park. Over 17,000 individuals were estimated to have attended this year's event. Nine of PAWS of CNY's volunteer teams attended the event throughout the day, meeting with members of the community and sharing information about the services that PAWS of CNY offers.

PAWS of CNY volunteer Ronna Richardson and her golden retriever Cody attended the event.
"I thought the event was very well attended," said Richardson. "Cody reacted very well with all and as always they loved him. Hes such a ham!" Mirroring the range of breeds and sizes that attended the event as guests, PAWS of CNY's volunteer teams demonstrated the varying range of breeds that have been certified as active therapy dogs, ranging from Lumpi the dachshund, to Cooper the great dane.
"I'm glad PAWS of CNY was there because we had a lot of people looking for us and wanting to get information on how to become a volunteer," said Richardson. The Canine Carnival event is the largest pet adoption event to be held annually in Central New York.
To learn how you and your pet can become a certified volunteer team with PAWS of CNY, visit our How to Volunteer page.
Please follow and like us: