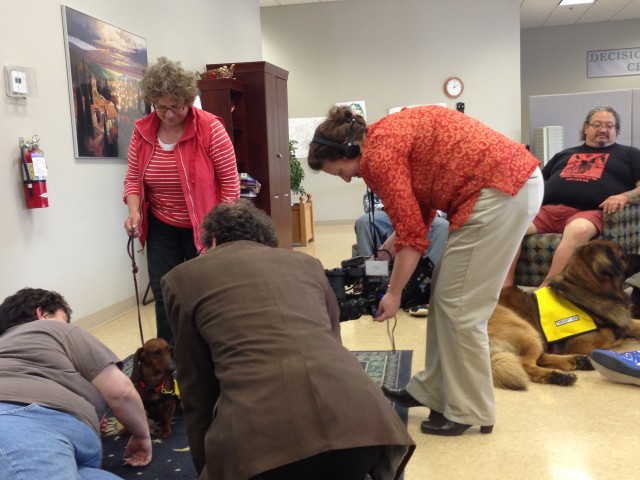 PAWS of CNY will be featured in an upcoming episode of WCNY's wellness series, "Cycle of Health."

On Friday June 19, PAWS of CNY volunteers Kevin Campbell and his leonberger "Chase," Anna Mayerhofer and her dachshund "Lumpi," and Jessica Marabella and her chocolate labrador "Blue," visited with residents at Hutchings Psychiatric Center's Sunrise Community Center in Syracuse. The team was accompanied by a producer from WCNY as well as Dr. Rich O'Neill, a psychologist at Upstate University Hospital and the show's host. During the visit, the team from WCNY interviewed volunteers from PAWS of CNY, as well as residents at the Sunrise Community Center, for the segment which will air this fall.
PAWS of CNY visits regularly with patients at several of Hutchings' Psychiatric Center's locations in Syracuse, meeting with both adults and adolescents. The program at Hutchings is especially important to the PAWS of CNY organization because of the healing emotional and psychological benefits that animals can have on those in need. The emotional benefits of pet therapy is part of the wellness message that "Cycle of Health" hopes to explore. During Friday's visit with Lumpi, Chase, and Blue, the residents at Hutchings repeatedly thanked PAWS of CNY for their visit. Smiles lit up their faces as they interacted with the pets, rubbing Lumpi's belly and laughing through licks on the cheek from Chase.
"Animals have an ability to connect with people in a special kind of way, sometimes when no one else can," Marabella told Dr. O'Neil during her interview. "I'm always amazed when I see how the people that we visit with interact with our dogs."
PAWS of CNY is currently accepting applications by certified volunteer teams with their Canine Good Citizen (CGC) certification interested in joining the teams that currently visit at Hutchings Psychiatric Center. PAWS of CNY volunteers who are interested in visiting at Hutchings should contact us.
Please follow and like us: