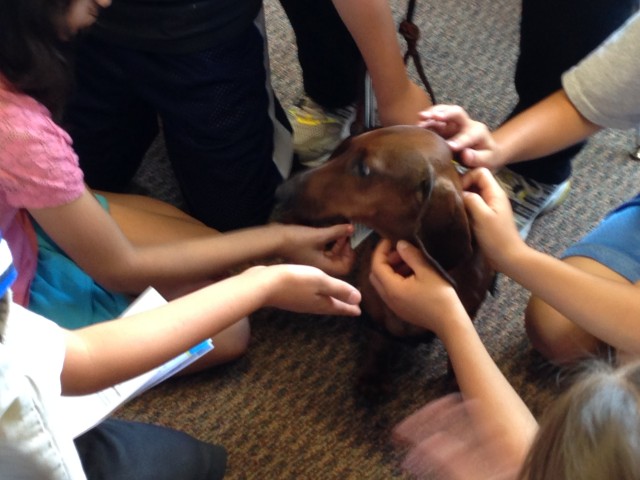 On Friday June 6 Jessica Marabella from PAWS of CNY attended the Cherry Road School student wellness day. The fourth grade students at Cherry Road spent the afternoon learning about a variety of wellness-related topics, from the dangers of smoking to bike safety. PAWS of CNY attended to present on the topic of pets as stress-reducers.

The presentation focused on how dogs and cats can improve the health and wellness of those around them, and how the therapy dogs who volunteer at PAWS of CNY help to improve the lives of those they interact with. Marabella was accompanied by Anna Mayerhofer and her dachshund, Lumpi who demonstrated for the students aspects of the evaluation test that PAWS of CNY's dogs must demonstrate in order to become certified by the organization. The students were thrilled to see Lumpi demonstrate his obedience skills and each class applauded his efforts and praised his accomplishments. After Lumpi's demonstration, all of the students were given an opportunity to meet Lumpi in person, rubbing his belly and gently petting his ears.
The students left the event having learned valuable lessons about how pets can help humans to be healthy. "I'm going to tell my parents that we should get a dog because having one will make us healthy and will help us live longer," one little boy told Marabella. Another boasted while holding up a PAWS of CNY brochure, "I'm going to show my parents this and tell them that our dog should be a therapy dog."
Thank you to Cherry Road School for inviting PAWS of CNY to be a part of this year's Wellness Event.
Please follow and like us: