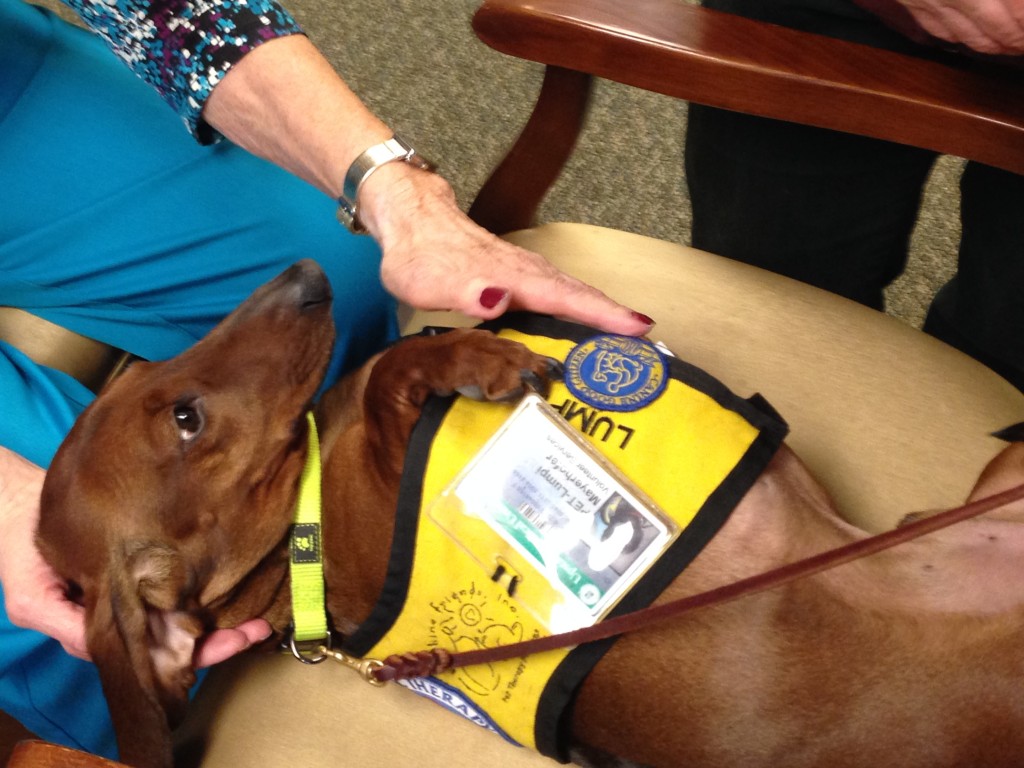 On Thursday January 13th three volunteer teams from PAWS of CNY attended a Pet Therapy event at the Villas at Summerfield in Syracuse.

Volunteer teams included Pam Monaco and her poodle mix Chi, Linda LeMessurier and her Golden Retriever Calla Lilly and Anna Mayerhofer and her Dachshund Lumpi. The Villas at Summerfield offer an assisted living community for seniors in Central New York.
"Patients knew we were coming and seemed very eager to welcome the furry friends," said volunteer Linda LeMessurier. "I have noted in all the different visits I make… [that Calla Lilly] is a nice vehicle to carry on a conversation with the residents about their pets, now or past, and it always brings a smile on their face."
As always, the PAWS of CNY certified dogs were just as happy to attend the event as the residents were to receive them. "Callie is so happy to get all the attention," said LeMessurier. As always, our selfless PAWS of CNY volunteers also reported that they were pleased to participate in the event. In regards to the benefits of pet assisted wellness services for our human volunteers, LeMessurier replied that the interaction is "not only beneficial for [residents] as a deterrent to their existing circumstance, [but it's] also beneficial for myself. I feel I am doing a kind service. Whenever a person is able to provide some solace to another in one form or another it is always a positive."
Thank you to the Villas at Summerfield for including PAWS of CNY in their Pet Therapy Day!
Please follow and like us: