We are pleased to announce that our volunteer, Wendy Davenport, and her therapy dog Fiona, are finalists in the Today's Options® Champions contest!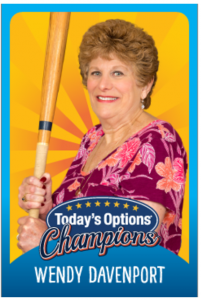 The award competition was created to recognize the exceptional achievements of people in Central New York. It recognizes those champions who have made a significant difference in the well-being of older adults and our local community.
Wendy is nominated for the work she does with Oasis, as well as with PAWS of CNY.
Please help us to support Wendy and Fiona by clicking on the link below to cast your vote!
You can vote once per day, on every Internet-connected device, from now until August 22.
Thank you for helping us to support those who support our community.
Please follow and like us: