Children from the Brady Faith Center in Syracuse were treated to an educational visit from PAWS of CNY's therapy dogs on Wednesday, July 19. The purpose of the event was to help educate the children about the benefits of pet therapy, and about the power of animals to heal the soul.
There were 25 children between the ages of 7 and 10 years old in attendance who were chaperoned by 24 teenagers. After the children heard a talk about St. Francis of Assisi, the Patron Saint of animals, they were brought outside to listen to a presentation that was given by PAWS of CNY volunteer Carol Slagle. Carol shared with the children information about the history of PAWS of CNY, the value of pet therapy, the required training and certification process that must be completed for a pet to be certified as a therapy dog, the breeds that are currently PAWS of CNY certified, the number and variety of facilities that receive PAWS of CNY visits, CGC testing procedures, and more.
PAWS of CNY volunteers in attendance included Ange Bradley, Wendy Stark with their Golden Retriever, Zen; Peggy Byrne and her Golden Retriever, Ellie; and Carol Slagle and her Miniature Labradoodle, Jack. After the pet therapy presentation, each of the volunteers in attendance were able to provide their own personal examples of interactions with people and patients while doing pet therapy.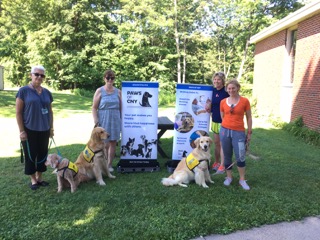 "It was amazing," said Carol Slagle. "The wonderful questions [the children] asked about the dogs and pet therapy for their ages. They were firing questions at us right and left. We were there for an hour but we could have been there for at least two."
There was also a demonstration by Peggy Byrne on dog safety. Peggy provided such advice to the children as:
Always ask the handler if it is okay if you pet their dog.
Hold your hand in a fist and let the dog smell you hand before petting it.
If the dog backs away when you approach, don't pet it.
If the dog does not back away when you approach, then pet it on the back, and avoid petting the face first.
Two children helped with the demonstrations. After the pet safety demonstration, the children lined up in three lines in front of the dogs and were able to spend time meeting and greeting Jack, Zen, and Ellie.
"It was fun watching their excitement and the sweet looks on their faces," Slagle said.
The therapy pets of PAWS of CNY had a great time visiting the kids and the kids had a great time as well.
-By Kyle Andrake
Please follow and like us: